Product Details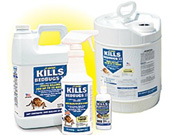 J.T. Eaton's Bed Bug Killer II (blue bottle) is a "residual" killer in that it has the ability to offer longer lasting control than a contact killer. Contact killers kill quickly and have no residual. Residuals kill slowly, but last longer. Using the two as a cocktail approach is key to eradicating bed bugs. It's active ingredient is a synthetic pyrethroid called deltamethrin, which is one of the most popular insecticides used worldwide.
Working in Conjuction with J.T. Eaton's Bed Bug Killer (red bottle) and JT Eatons Bed Bug Powder (green bottle), bed bugs can be safely and effectively wiped out with deadly precision (always review and follow the bottles label and directions).
Application
JT Eaton's Bed Bug Killer II (blue bottle) is used on day one of treatment after the Red Bottle of contact killer is applied and before the Green Bottle of diatomaceous earth has been put down. The blue bottle should be applied in cracks and crevices including behind hanging wall frames, below drawers, on baseboards, etc (areas that do not come into contact with your skin). (please see our video above and application illustration below). Repeat application every 2 weeks for 6 weeks to complete the bed bug treatment protocol. Before applying any of the J.T. Eaton bed bug products, we recommend using our Professional Bed Bug Steamer on the edges of the room and inside cracks and crevices (allow to dry for one hour or until fully dry).
Features:
Water base 0.03% Deltamethrin with residual action offering longer lasting control.
Specifically geared for use on the re-emerging pest problem of bedbugs (Cimex lectularius ) in commercial and residential accounts
Can be used for a variety of bedbug harborage areas, including wall-ceiling joints, baseboards, behind and underneath furniture,, etc.
Kills Bedbugs, Feas, Ticks, Spiders and insects listed on the label
Available in Quart Spray Bottle 1-Gallon Bottle (with sprayer)